BERETTA A-9000S CO2氣手槍 《已售罄 Sold Out》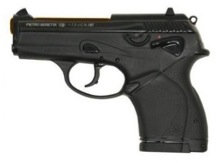 我們最新引進由俄羅斯制造的意大利
BERETTA
A-9000S
型
CO2
手槍,槍身仿照真槍以半金屬半塑膠設計,既輕巧但又不失其剛性,並獲意大利原廠獲准以使用其註冊商標,所以極之像真。而操作方面亦非常相似,半自動操拃,
4.5mm(.177)
鉛
BB
彈放在經特別設計的雙行彈匣,可入
22
粒之多,毋須經常入彈。
4.5"
金屬
6
線來福線槍管,刻上白點前後準星,板機穩定,這些都能增加準繩度。保險掣設於兩邊,左右手握鎗都能單手控制。隨鎗附送彈匣兩個及精美鎗盒,首批數量不多,請從速訂購!




Beretta A-9000S Anics Pistol With 22 Shot Magazine
Exact copy of Beretta 9000S pistol and is fully licensed by Beretta Italy with Trademarks.


Beretta A-9000S model is produced as per license agreement between JSC "Anics Group" and "Beretta" company, Italy and it is the exact copy of the Beretta 9000S fire arm. The design from Giugiaro, the creator of Maserati and Aston Martin is new in the modern pistol production industry and it gives to the pistol the flavor of "high Italian fashion". The scheme of 22-shots conveyor-type magazine mechanism allows the usage of "steel BBs" and all the types of lead pellets caliber 4.5 mm (.177) and with the length not more than 7.6 mm. All functional elements of the fire arm preserved they purpose: moving slide, slide catch, double-sided safety for its usage with both left and right hands, complete trigger mechanism of single and double actions.

Grooved steel non-moving ware-proof barrel guarantees the high precision and reliability of shooting. Anics A-9000S Beretta allows the usage of all the types of lead pellets that are .177 caliber with the length of not more than 7.6 mm.
Technical Specs::
Caliber: 0.177 (4.5mm)
Overall dimensions: 7.7 x 4.8 x 1.2 inches Weight of loaded / unloaded: pistol 1.8/1.19 lbs Barrel length: 4.6 inches
Power:
Modified
under 2 Joules for Hong Kong
Magazine capacity: 22 shots
Shots from one CO2 bulb: up to 70 Trigger mechanism : double action

Additional features:
• Transparent 22-shots polycarbonate hit-proof plastic magazine with conveyor type feeding mechanism of containers for all types of ammunition allows for usage of different types of pellets in any sequence. Rollers- containers are made of polyamide-66 with additions of 30% fiberglass, they provide for roller life period of at least 5000 shots. One can use both steel and lead balls, as well as lead and plastic pellets with maximum length not more than 7.6 mm. Transparent magazine allows to control the availability of ammunition in each roller. Magazine is easy to be removed from the pistol using the side latch.
• Steel hammer is made as per MIM technology allows for cocking for Single action shooting.
• Transparent magazine allows shooting in any position: it is easy to be charged into grip and to be removed out of it as in the firearm.
• Unique CO2 bulb punch-and-lock mechanism is integrated with the pistol frame.
• Steel slide catch allows for comfortable control of slide position with regard to frame with shooter's thumb.
• Metal slide with grooves provides for reloading and comfortable cocking for precise shooting in single action.
• Trigger guard is made as in the fire arm.
• One-piece frame of the pistol is made of polyamide with addition of fiberglass with non-slipping soft cover on the grip made of polymer using high-tech.