GAMO "Compact" Air Pistol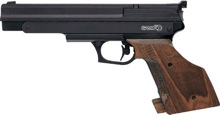 西班牙
GAMO
比賽級氣手槍
•
單發/手動屈曲槍管上彈簧/來褔線槍管/極準確/可調式後準星/兩段式板機並可
180
º
調校配合手形/可調式人體力學
"
核桃木
"
手柄

Careful craftsmanship, precision engineering, quality of materials... and tradition makes this pistol the ideal colleague to compete...

Mechanism
· Calibers: .177 in (4.5 mm).
· Initial Velocity: Approx. 280 ft/s

· Power:
Modified
under 2 Joules for Hong Kong

· High specification competition model with a single shot mechanism.
· Pneumatic pre-compressed system with valve.
· Recoil and vibration free.
· Barrel made of precision rifled steel.
· Two stage trigger with the first stage adjustable.
· 180° adjustable trigger pale.

Stock
· Adjustable sight for both windage and elevation.
· The rear sight is also adjustable from open to close.
Grip
· Grip: fine selected grade of walnut wood.
· Anatomical grip, stippled for better control, with adjustable palm shelf.
· Checkering: laser carved to avoid slippage.
Presentation
· Padded hard case included
.
Specifications
· Weight: 2 lb (0,91 kg).
· Length: 12,60 in (32 cm).
· Ammunition: pellets of all shapes.
· High precision maximizing the accuracy and grouping.
· Calibers: .177 in (4.5 mm).